Description
| | |
| --- | --- |
| Product Dimensions | 21cm* 22cm* 13cm |
| Product Weight | 1kg |
FEATURES: 
🐶1. Fun Remote Control Robot Dog: our cute remote control dog toy has many commands which are: Go forward, Stand, Handstand, Push-ups, Sit down, Sleep, Bark, Play Nice, Act Protective etc. All these actions can be controlled by the controller. It's a great gift for kids to learn about responsibility before getting a real dog.
🌻2. Intelligent & Interactive Robotic Puppy: Touch the chin of the walking dog to perform a cute gesture and makes a sound and interact with you. You can program the actions as you like through the remote control and then the dog will follow the commands. Perfect robot pets for both boys and girls.
🎅3. 2 Battery Packs and Safe Design: This robot dog is made of high-quality non-toxic ABS plastic material with smooth surfaces making it safe to be handled by young kids. A strong durable design that will last for a long time. This robotic dog toy needs 2 sets of 3.7V 50mAh rechargeable batteries (AAA) which are NOT INCLUDED in the package, 
🔋4. Smart Energy Saving Design: The volume can be adjusted and save energy when on low. Another cool feature is the toy goes to sleep mode after not being in use after 80 seconds which will preserve the battery.
🎁5. Perfect Gift for Kids: Excellent toy for any kids who are into animals. This toy is a great gift for birthdays or as a present for Christmas.
Note:
1. Due to manual measurement, please allow a difference of 1-3 cm and a difference of 3-5 grams between different colours.
2. Due to screen differences, the colours may differ slightly from your expectations, please allow.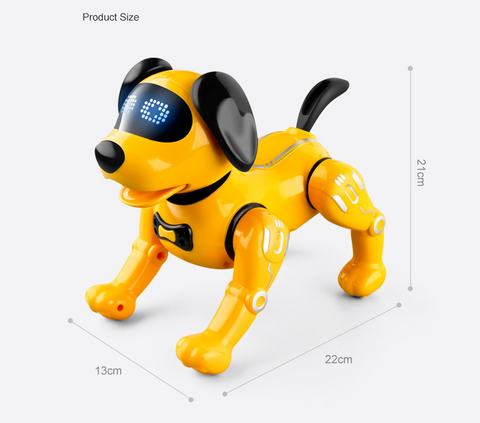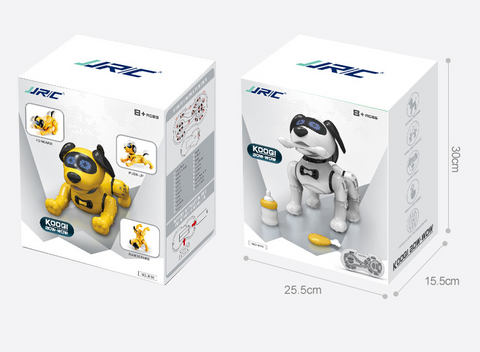 In the Package:

1 x remote control robot dog;
1 x remote controller; 1 x drumstick; 1 x bone;1 x screwdriver
 1 x feeding bottle; 1 x USB charging cable; 1 x user manual; 




Payment & Security
Your payment information is processed securely. We do not store credit card details nor have access to your credit card information.